Cardiff & Vale Integrated Family Support Team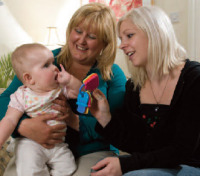 Welcome to the Website of Cardiff & Vale Integrated Family Support Team (IFST) supporting the needs of vulnerable families in crisis across Cardiff and the Vale of Glamorgan. We are here to help support families who are having problems with substance misuse which has an impact on the welfare of children.
A scheme funded by the Welsh Government, it was set up in 2010 as a partnership between Cardiff Council, the Vale of Glamorgan Council and the local Health Board.
We help some of the most vulnerable families in Cardiff and the Vale of Glamorgan by supporting them to stay together by empowering them to take positive steps to improve their lives. Through dedicated programmes such as CRAFT the professional team work with families to recognise the changes that are needed to take control of their lives once again.
This website will help you understand how our service works and how you can find more about accessing our services.
Download our leaflets:

What our Service Users are saying
"Clone the Therapist and you would have the epitome of service and care"
Father on service evaluation form.
"Reminding me of the person that I really am – without the service I would not be where I am today."
Mother on Service Evaluation form.
"The dedicated time and effort of the therapist has put right many of the problems ... I am now less dependant on others ...I have achieved so much."
Mother in letter to the service
"The Therapist really listened to us ... our relationship is now a lot stronger and I would recommend the service to anybody in my position."
Parents in a core group meeting
"we know what is expected of us now (therapist) explained it really well."
Parents in a core group meeting
"The service has helped me to become the person that I want to be, not the person I would have become, a druggie, hopeless, lost my kids and everything ... I think The service is brill."
Mother on service evaluation form.
Training and Support
We work with families through referrals from Social Services where a child is affected, or directly with families interested in getting help and support for a loved one they know through our CRAFT Programme.
Our aim is to help families create a safe and supportive place for children, where parents and carers prioritise the children's needs and focus on family life and their responsibilities as a parent.
How we work with families to do this:
Together we will look at the strengths and resources that you and your family already have. It is important that we hear about the good things as well as the things that may be causing you difficulty
We will ask you and your family what changes you each feel that you need to make. We help you to think about what these changes might be, and how to make them. We also help you to work out new strategies or practice new skills that may help
We work flexibly to provide a service that fits in with your family's needs and commitments, so that we can be there at times that are useful to you.
We aim to work with all members of your family for a minimum of three days, up to a maximum of six weeks. We will help you to set and achieve some realistic and sensible goals that will allow you to make real and positive changes in your life.
We report back to the child's Social Worker regularly, giving them updates on how our work together is progressing and any changes that you have made.
CRAFT Programme
Substance misuse affects the person you love, but it also affects you.
It can really hurt to see someone you love struggling with a drug or alcohol problem. What do you do for the best? What do you say, how do you support them and look after yourself? These are all questions that many people have or struggle to answer - this is where we come in.
CRAFT Programme is a free informal and relaxed therapeutic programme, designed especially for family members, partners and friends. We are dedicated to helping family and friends create positive change for themselves and for their loved ones who are struggling with their substance use problems.
It has been widely evaluated and the results have shown that it can help family members improve their own lives, help their loved one reduce, or even stop their substance misuse by helping them into an appropriate support service
Families who have gone through CRAFT have reported:
A happier relationship with their loved one
Better family cohesion
Less conflict, anger or depression
A greater understanding of each other

You can find out more by downloading the CRAFT Leaflet
If you think you could benefit from this programme and would Iike to book a place or simply would like to find out more information please get in touch with us directly on:
Resources
You can find out further information about the work of Cardiff and Vale Integrated Family Support Team by downloading our leaflets:

You can also get more advice and support by contacting any of our partner organisations:
*Links open in a new window.
Contact us
If you want to speak to the team or find out more about the support we offer please get in touch with us in any of the following ways:
Phone: 029 2087 3450 
e-mail: ifst@cardiff.gov.uk
Write to us:

Cardiff & Vale Integrated Family Support team
The Alps Depot
Quarry Road
Wenvoe
CF5 6AA

CRAFT (Community Reinforcement and Family Training) Privacy Policy
CRAFT is a service that is managed by The Integrated Family Support Service and hosted in partnership by Cardiff County Council and Vale of Glamorgan County Council. CRAFT is grant funded by the Area Planning Board for Cardiff and Vale (NHS Wales). Cardiff Council is the Data Controller for the purposes of the data collected.
This privacy policy will explain how CRAFT uses the personal data we collect from you when you make a referral to our service.

What data do we collect?

Craft collects the following data:
Personal identification information; name, home address, post code, email address, telephone number, date of birth and racial/ ethnic origin.
Personal identification information for family members who are part of the referral and intervention process.
Recordings of our sessions (where you have provided your prior consent)
Contact details of agencies currently involved with the referrer and family.
How will we use your data?
Your details are collected for the purposes of:
Facilitating community reinforcement training
Providing family support sessions.
Quality assurance reports
Recorded sessions will be used for training of our staff via an accredited CRAFT clinician – participation is not dependent on consent
Maintaining contact with you throughout the initial program and 12 months review period.
Directing you to the appropriate support service and partner agencies to ensure timely and effective safeguarding measures are in place.
Providing anonymised data to partner agency funder; Area Planning Board for Cardiff and Vale (NHS Wales).
Who do we share your data with?
Your data is anonymised when shared with our funders Area Planning Board for Cardiff and Vale (NHS Wales) and used purely for statistical and research purposes and to secure further funding.

Your data is also anonymised when submitted for Quality and Training purposes with the awarding body of University of New Mexico.

How do we collect your data?
You directly provide CRAFT with most of the data we collect. We collect data and process data when:
You or a third party (with your consent) directly contact CRAFT and complete referral and assessment form.
You participate in a 1-2-1 or group CRAFT intervention.
You voluntarily complete a CRAFT client questionnaire following the completion of the intervention.
You voluntarily provide review details at 1, 3, 6 and 12 month review sessions.
How do we store your data?
Craft will store electronic data using Cardiff Council internal systems and policies.
CRAFT will keep your case file that includes the referral and case notes of sessions and review meetings for 12 months after the intervention has been completed. Once this time period has expired we will delete your data by securely destroying all records unless safeguarding protocols have been implemented, whereby records will be securely stored for 35 years (Section 47 and Child Protection Registration).

Lawful basis
The legal basis for our use of your personal data will generally be one or more of the following:
​Consent – This is required in order to process your information and provide you with the support which you have signed up for
Contract – Your anonymised data may be required to fulfil our contractual obligations with Area Planning Board for Cardiff and Vale (NHS Wales).
Legal obligation – Your data may be required in order to fulfil our legal obligations particularly in relation to safeguarding concerns
Where your consent is relied upon for the processing of personal data, you have the right to withdraw your consent at any time by contacting craft@cardiff.gov.uk

All data is processed in accordance with the GDPR and Data Protection Act 2018.
What are your data protection rights?
CRAFT would like to make sure you are fully aware of all of your data protection rights. Every user is entitled to the following:

The right to access – You have the right to contact Cardiff Council and request copies of your personal data.

The right to rectification – You have the right to request that Cardiff Council correct any information you believe is inaccurate. You also have the right to request Cardiff Council complete the information you believe is incomplete.

The right to erasure – You have the right to request that Cardiff Council erase your personal data, under certain conditions .

The right to restrict processing – You have the right to request that Cardiff Council restrict the processing of your personal data, under certain conditions.

The right to object to processing – You have the right to object to Cardiff Council processing your personal data, under certain conditions.

The right to data portability – You have the right to request that Cardiff Council transfer the data that we have collected to another organization, or directly to you, under certain conditions.

If you make a request, we have one month to respond to you. If you would like to exercise any of these rights, please contact us at our email: IndividualRights@cardiff.gov.uk

Call us at: 029 20873244

Or write to us:  Information Governance & Risk Management, Cardiff Council, Room 357 County Hall, Cardiff, CF10 4UW.
Changes to our privacy policy
Changes to our Privacy Notice can occur at any time in order to reflect updates in existing legislation, best practice and guidance from the Information Commissioner's Office. These changes are published on our website. This privacy policy was last updated on 18th August 2020.

Other Privacy Notices
For further information on how Cardiff Council processes personal data, please refer to the full Privacy Notice.

Microsoft Teams Privacy Policy

Health Board Privacy Policy where appropriate

How to contact us
If you have any questions about the CRAFT privacy policy or would like to withdraw your consent, please do not hesitate to contact us.
Email us at: craft@cardiff.gov.uk
Call us:  029 2087 3450
Or write to us at: CRAFT -- Cardiff Council, The Alps, Quarry road, Wenvoe, Cardiff, CF5 6AA.
How to contact the appropriate authority
Should you wish to report a complaint or if you feel that CRAFT has not addressed your concern in a satisfactory manner, you may contact the Information Commissioner's Office here: https://ico.org.uk/concerns/getting/ or by calling 0303 123 1113.

For further information please contact:

Data Protection Officer
Ystafell 357 Neuadd y Sir / Room 357 County Hall
Caerdydd / Cardiff
CF10 4UW
Ffôn / Tel: 029 20873244
E-bost / Email: DataProtection@cardiff.gov.uk